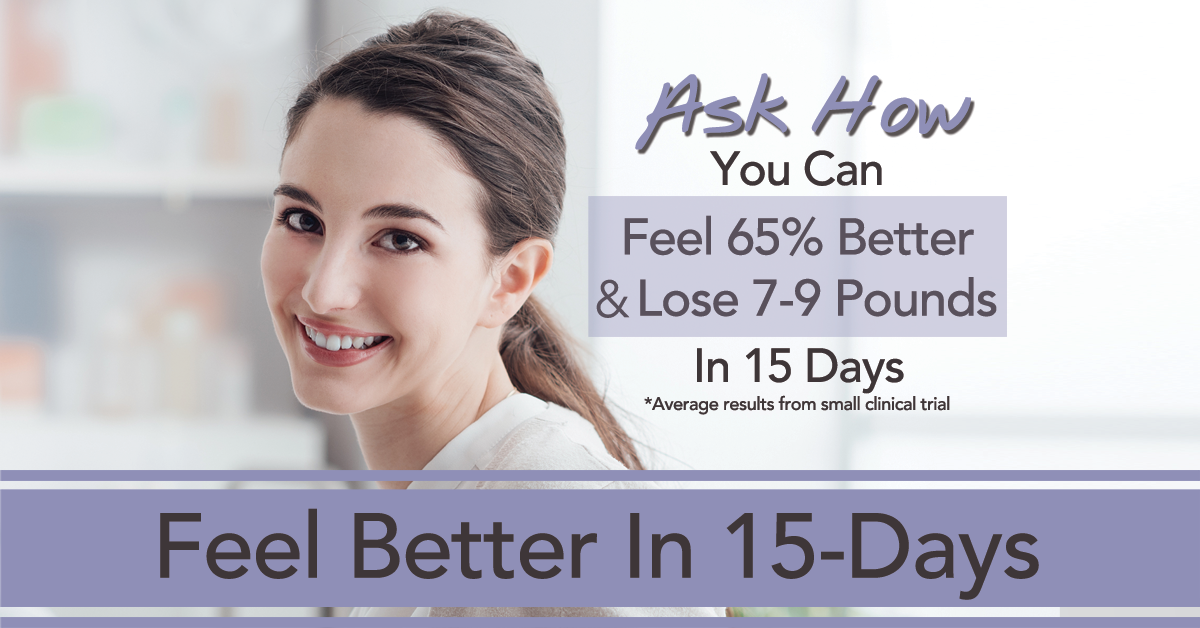 We live our lives in a sea of chemical and toxins. In fact, the Environmental Protection Agency (EPA) has indentified over 85,000 chemicals in use today that are potentially toxic to humans and the environment. No matter how careful you are you simply cannot avoid this "sea of toxins" completely. As the toxin levels build in our bodies it can contribute to fatigue, increased weight gain, inflammation, slow metabolism, hormone issues, brain function, digestive problems and can be a factor in just about every symptom you can think of.
This is why we are introducing our "Feel Better in 15 Days" program as a clinically effective and proven program to "detox" or help clean your body chemistry of these toxins. In clinical trials this program has proven to reduce symptoms by an average of 65% and an average weight loss of 7-9 lbs by the end of the 15 day program.
This metabolic cleanse or "detox" program is highly effective, affordable and simple to do. You CAN do this! Most people report one or more of the following benefits after completing our "Feel Better in 15 Days" program:
More energy
Less pain
Better sleep
Weight loss
Better digestion
Overall feeling better
More motivation to continue improving their health

Check out the tesimonials of a few people who recently completed the "Feel Better in 15 Days" program:
Patient K - Symptom score dropped from 106 to 72 (32%) and lost 10 lbs. Now highly motivated to continue improving health.
"I have lived with chronic joint and back pain for years and was very skeptical that anything could ever help. I really did not think doing a cleanse for only 15 days would make any difference. I was wrong. After 15 days the pain in my hands and knees was nonexistent. The pain in my back was greatly reduced and as an added bonus I also lost some weight. For anyone that is the least bit skeptical I say do it. It is truly a game changer and will help you continue on a path to wellness."
Patient E - Symptom score dropped from 13 to 2 (85%)
"Normally I would not have thought of going on a clenase. I had been suffering with an extreme outbreak of eczema on my hands for about 8 months. Nothing topical was helping to give me relief. This 15 day cleanse cleared up my eczema."
Patient G - Symptom score dropped from 73 to 11 (85%)
"I literally had severe pain in all my joints from my toes to my neck. All my muscles hurt. I saw several chiropractors 2-3 times a week for four years to deal with the pain and inflammation and relief was temporary at best. Despite daily ibuprofen, botanicals, aspirin, occasionally some prescribed pain medication the pain was tolerable but it was always present. After going on the internet I thought I had fibromyalgia although I never went to see an MD. Virtually my whole body hurt all day, every day."
"By the second week of the cleanse I was dramatically better. And my alternating constipation and diarrhea have also ceased and now I have two regular bowel movements each day. I also had severe insomnia, and that is gone too. Thank you for sharing this program with me. This has been a life changing experience for me and my family."

To learn more about the "Feel Better in 15 Days" program simply click the above button to watch a short video and more patient experiences while doing this program. Call our office at 763-241-5436 to speak with one of our health providers with any questions.